Project!

Alright, I know that *technically* all of you are only one degree away from Jake because all of you know me and Jake and I are very close because he's obsessed with me and never leaves me alone. But let's all stretch our imaginations for a minute and pretend we live in some crazy alternate universe where I'm not being stalked by Jake Gyllenhaal, in which case we all might have to get a bit more creative when coming up with our degrees of separation.

Like, for instance, I might say that my eleventh grade English teacher used to drive Justin Timberlake to singing lessons. And Justin presented Jake's Best Kiss Award on the MTV Movie Awards in 2006 (looking, if I dare say, a little little too happy to be doing it).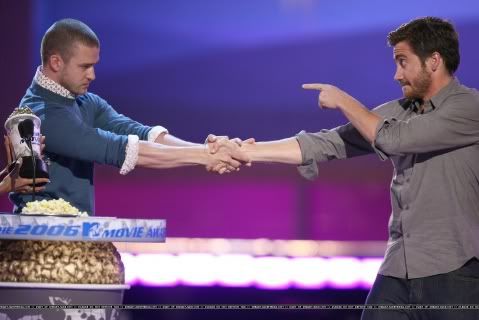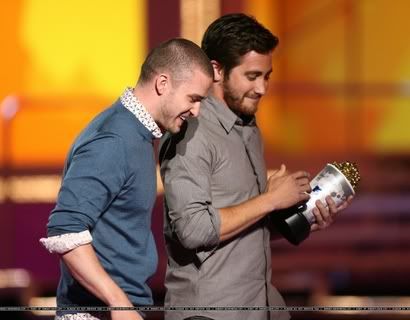 And therefore Jake and Justin and I hang out all the time and are way good friends, natch. (Sidenote: Timberlake totally gets added to
The List
for hovering like that.)
So starting
right now
, we are having an ongoing contest to see who has
the best connection to Jake
. And it can be any connection at all. Like, one time, a friend of mine ate Maroon 5's pizza backstage at a concert and since Maroon 5 went to school with Jake that's
basically like Jake and I shared a pizza
.
My challenge is for you to top THAT.
(Note: Prize winners will receive the gift of knowing that they won and probably nothing else.)