This has been the worst year of my life. It started out bad, it got worse the longer it went on, and now it's wrapping up in such a horrible way that I never would have been able to fathom it was possible.

I want this year to be over, I want to stop feeling like this, I want to stop working myself into the ground and having absolutely nothing to show for it...and I sure as hell want nothing to do with talking about Kara in the past tense.

When I'm upset or angry or sad, I write. J.K. Rowling once said, "Sometimes I know what I believe because of what I have written." I can't think of a better way to explain why I try to type out my emotions. It's as if I lack the capacity to make sense of them otherwise.

I wrote two blog entries for Kara on Sunday, the day I got the phone call, with every intention of posting one or both before I left for the funeral. But a trite memorial, no matter how heartfelt, is still a trite memorial. How do you sum up anyone's whole life anyway? Or what they meant to you? Or the gap in your own life that they've left behind?

Instead, I thought I'd put up something that I posted on MySpace long ago, which was written at a happy time in my life (I write when I'm happy too). Most of what I wrote about Kara was written during happier times, probably because our friendship was a happy one. We always laughed more than we fought, and that we fought at all was a testament to how close we were.

You don't have to read it. I'm leaving for Topeka, Kansas, early Thursday morning to go to the funeral and if I have time tomorrow, I may post more. If not, it's okay. I'm really just doing this for myself anyway. And only because I want to. And because Kara would have laughed at me if I'd gotten too sentimental. Or too down. Or too wrapped up self-pity. "Buck up!" she would always tell me. "And go pour yourself a drink!" She said it more times than I can count and over things that seemed so tragic at the time... Now I'd give anything for her to be here to tell me that again...


From the spring of 2004, on a trip to London. The story is entitled, "I took a picture of her butt hanging out of the car!"

We stayed in a crappy (but cheap) hotel that Jamie found for us. We got up every morning around 7:30 or 8:00 and went non-stop until we crashed in bed at 10:30 or 11:00. We were often so delirious by the end of the day that we could barely control ourselves. I never remember laughing so much in my whole life.

As an example of the seriousness of our exhaustion, I bring up the example of a dream I had. I woke up in the middle of the night thinking that I had heard the alarm go off. Since I was the first up every morning, I went ahead and went to the bathroom and contemplated getting ready. Because neither Kara nor Jamie were moving, I decided to crawl back in bed. Once nestled back in my cocoon, I remembered that I had been dreaming before I woke up. As the details came back to me, I started laughing hysterically. I had dreamed that we were being attacked by a bad man. Peter Pan tried to come to our rescue and Jamie, attempting to stab the enemy, accidentally punctured poor Peter, and he deflated like a balloon, zipping around our heads as he shrank smaller and smaller. The more I thought of it, the funnier it became. I laid in bed and laughed for almost an hour before finally getting up and looking at my watch. Sadly, it was only 4:30 in the morning, and I had wasted a good hour of sleep time.

Jamie and Kara said that they didn't hear me giggling in the night, but for the rest of the week, all anyone had to say was, "Jamie killed Peter Pan!" and I would keel over. I still consider it one of the funniest images I've ever been exposed to, and it was all a creation of my messed-up brain. There were other times that we were awoken, however. Like the first night when the heater didn't work and Jamie asked the man at the front desk to come fix it. He turned on the light, waking up Kara and I from a dead sleep, and freaking us out since we had no idea who this dude was. It didn't help that the place was run by unhelpful Arabs who only watched the news in a language we couldn't understand and who were less than willing to help us out with things like giving us a line out to call home. Another time, Kara was cold and turned over only to see me right up in her face, sound asleep. I was always stealing the covers. It was just so damned cold.

But aside from all that, I need to write down the events of March 8, 2004, because that was one of the most exciting days of my life. It was Kara's 22nd birthday, International Women's Day, and, as we would later learn, the second anniversary of the Queen Mum's death. Jamie didn't want to pay the price of a train ticket, but Kara and I were determined to go to Windsor. So we left her for the day (for the first and only time), taking the train to Slough and then riding off to Windsor. When we got there, we were told to look up at the flag flying on the castle. It was not the Union Jack, meaning that the Queen was on the grounds. Kara and I were thrilled silly just to know that we were gracing the same ground as royalty.

We were there early in the morning and, as I said before, it was fucking cold. So we were pretty much by ourselves as we wandered the grounds. We went into the church and were quickly tracked down by a bobby, who told us that we needed to stand off to the side for a moment. Thinking that we had done something wrong, we did as told. We waited for about 5 minutes and he came back to get us. He told us that everything was OK, but we needed to leave. Seriously freaked, we skedaddled.

Once outside, a man who was delivering milk asked us if we knew what was going on. We said no, and he told us that the Queen was coming down. At first we didn't believe him, but he told us to stay put and have our cameras ready. Intrigued, we stuck around.

A few minutes later, a green car came rolling down the drive and as I looked to see who was in it, I noticed, with a shock, that Queen Elizabeth II was behind the wheel of the car (!). I stood there, paralyzed, as Kara tried to tell me that that couldn't be the Queen. I panicked, wondering if my photo opportunity had passed me by. But it didn't seem right that I could just snap her picture. I mean, it was just me, Kara, the Queen, and a couple of bobbies. How weird is that? I got my camera out and managed to snap two pictures before she disappeared into the building. Kara looked questioningly at the bobby who had told us to leave the church, and he nodded affirmatively: that was the Queen, alright.

We were beyond happy at that point, and trying to play it cool at the same time. We went back into the church, using a different entrance, and were again the only ones in the building. The section that linked the two parts of the church together was roped off, so we knew that Her Majesty was somewhere in the area we had just vacated. In some places, you could peek over the wall that divided the two sides, and as we did, we saw the top of her head, along with two companions. Seeing where she was standing, my brain clicked, and I remembered that spot to be the final resting place of the Queen Mum. I looked at Kara in awe and told her that. She told me that she was sure this was the anniversary of her death.

After peeping for a few more seconds, a couple came into the church and beelined to us, seeing what was what. Seeing that we were drawing unnecessary attention, one of the staff members asked us to leave. Once outside, the original bobby told us that she would be coming out momentarily, if we wanted to take more pictures. By the time the Queen emerged again, there were about 30 people waiting for her. She graciously gave us a wave and I took picture after picture. It wasn't as special as the first time, though. The second time, I was mainly seeing her through the lens of my camera, and the crowd was so large that we were much further back. We were all happy, though. The Queen didn't drive this time. She got in the back of the car, and quite ungracefully, I might say. As Kara proudly proclaimed, "I took a picture of her butt hanging out of the car!"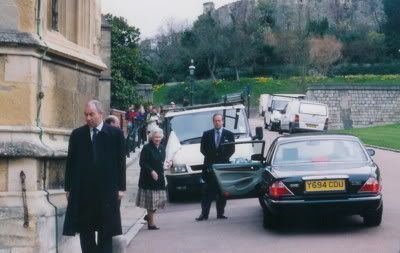 (At some point later, someone - I can't remember whom - said to me, "Well, anyone can see the queen! That's not that special." Whoever you are, shut the fuck up. It was awesome!)